Harley Quinn: Black N' Blue, a film directed by Josh David Bennett, Manuel 'Tony' Alfonso is an engrossing film. The beginning of the film will give you no clues and it will keep you perplexed but it will just set the tone of the film which you're definitely going to enjoy. This short thriller film will keep you electrified, and you will assuredly wait to watch it till the end.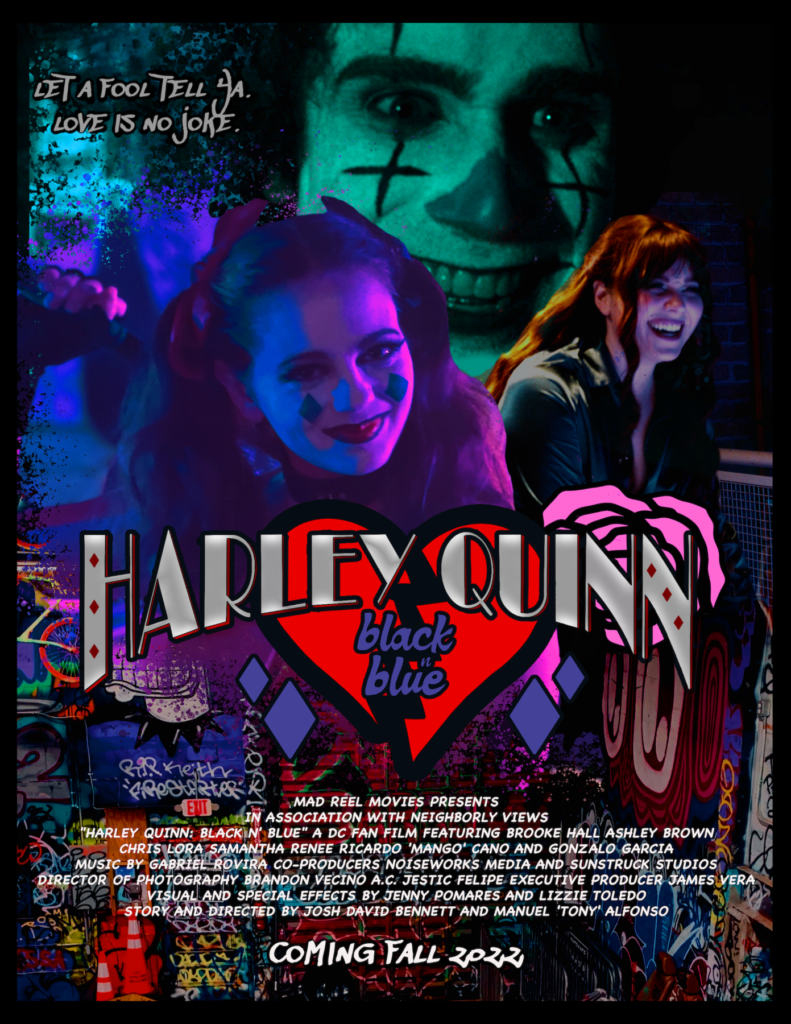 The makeup and the costume amazed us, it is breath-taking and worth mentioning about. Every actor in the film was superb. The film is altogether successful because of the team work they had! We congratulate the team of Harley Quinn: Black N' Blue for their masterpiece and the crowning achievement. Also, the title is ingeniously chosen, very appreciative! The film is shot appealingly, the chemistry between the characters will amaze you.
And the makeup of course! It's a thrilling film as well as it has an amazing storyline which is very well built into a film! The film dealt with a contemporary challenge, many of you will be able to relate with it. It is totally worth watching, as this film is shot from a new thought angle, which made the film extremely impressive and made the film standout.
We would suggest you watch the film and wait for the unpredictable end.
We are obliged to have the chance to interview the directors of Harley Quinn: Black N' Blue. We wholeheartedly acknowledge the time taken to address the questions, and all that it would entail.
Directors Biography
Josh David Bennett and Manuel 'Tony' Alfonso have been active storytellers since their early childhood. Growing up in Miami, in a community of aspiring artists, the pair's passion for films drove them to become filmmakers. They push each other past their limits and share a love for pop-culture that bleeds into their craft. Learning through makeshift experiences, the two have developed understanding how films are made and how they want to run a film set. It is a process making a film, but the excitement when these two collaborators work together outweighs the stress. There looks to be a promising future in the works the longer they stick with each other, them and the team they have formed on the way.
This is the first interview that we've had the pleasure of having. Thank you for giving us this opportunity to answer questions about the film. MDIFF has made an incredible impression on our festival experience. It has motivated us, allowed us to evaluate ourselves and gave us a new insight into the world of filmmaking.
About Film:
In Black N' Blue, an emotionally neglected Harley Quinn seeks out a fleeting romance with her best friend Poison Ivy behind Joker's back, but heartbreak soon follows when her homicidal boyfriend takes matters into his own hands and forces a choice.
This is a non-profit DC fan film made by and for fans.
The
Interview
Let's start with some questions.
1. Makeup was an indispensable part in this film. The makeup of the actors in the film are amazing, who did the entire makeup?
Would you like to mention anything especially about makeup, like why those makeup ideas were chosen?
There were two primary makeup artists involved in the project, Jenny Pomares and Lizzie Toledo. Jenny worked with us during the beginning phases of production and Lizzie joined us later down the line. We had ideas for what these characters should look like, but they came to life on set thanks to the combined efforts of both of these talented artists and the actors.
2. The places of the shooting are very expertly chosen, where did you shoot the film? Share a few of your experiences of shooting the film?
We faced some obstacles early on. The film was exclusively shot in Miami, which was a challenge because we are no longer residents there. It took a period of three separate shoots in order to finish, which accumulated into six months spent on production, but we had a great team that made it possible. Thanks to some of our awesome local connections we gained access to a few incredible locations. One in particular was The Boombox. The graffiti on the walls really sold it for Joker's hideout. We were fortunate to shoot there. Big shout out to the owner, Ricardo 'Mango' Cano! Awesome guy and very open with us about using his location. He actually had a small role in the film too.
3. The cast & crew of a film are one of the most important facets. Do you agree? And do you believe a successful film comes out because of the best cast & crew? What was it like working with the actors in your film?
Yes. Absolutely. Without a talented cast and crew nothing could be accomplished. We can't stress how grateful we are to ours. The cast was filled with some of the most talented people we have ever had the privilege of working with. They worked with the source material at hand and provided a whole other perspective to the narrative which elevated the on screen interactions. We also have to add that every look on screen can be contributed to the input of our actors. They were all very involved in the design and representation of their respected characters which is just a great feeling for us because it showed their commitment to the project. Working with other creatives is always rewarding.
4. We loved the concept of the film, it is very frequent but what made us fall for this film is its unique and interesting presentation. Where did the story develop from? Where did the concept come from?
It came from a desire to tell a story about Harley Quinn that hasn't been told yet in live action. There do exist a ton of films that exhibit the traits and story of ours, but that only helped inspire us. We learned extensively from films like Thelma & Louise and Joker. They helped ground our idea into a reality. Plus there is an extensive library from DC Comics that helped set the tone for a mature Harley Quinn story. A few of those stories of influence would be Batman: White Knight, Harleen and of course the origin story Mad Love.
5. We loved the chemistry between Brooke Hall and Ashley Renae Brown in the film, as "Harley Quinn" and "Poison Ivy". How did you come up with those characters and how did you choose both of them for the apt roles?
These are pre-established DC characters that we knew had to be done justice in our fan film. Writing them was a big challenge, which we welcomed. When Brooke Hall and Ashley Brown met during our costume tests in pre-production, it was clear that we had lightning in a bottle. They displayed tons of chemistry and the respect between the two was very evident.
6. Why did Harley Quinn, the character in the film, carry that uncanny makeup for the most part of the film? What was the purpose behind it?
That look evolved over time and didn't really make itself known till the first day of shooting. The idea for Harley's signature look came from a concept of her expressing her inner turmoil, an emotionally torn Harley Quinn, one that was always in tears. We ended up choosing diamonds because it fit more in line with a harlequin caricature. Be it sad, joyful or angry. It all came down to the makeup being able to express a feeling of its own. Deep down she feels conflicted, maybe even heartbroken because her choices led her to this unfulfilling romance with Joker in the film, but it is perhaps what she deserves. One song called "Little Sad Eyes" by the Castells was the inspiration behind the design.
7. We absolutely loved the climax of the film and its representation, what do you as a director of the film have to say about it?
Love is complicated. We wanted to tackle that. From conception, Harley Quinn has been written to be romantically involved with the Joker, but in recent years that dynamic has shifted and the character has become more independent and open to other more prominent romances. The relationship that Harley Quinn has with Poison Ivy is something that we really wanted to explore. These are two characters that actually care for each other, finding their love even in their lowest moments and that really leaves a powerful feeling. It was important that we got this right. We are really proud of the climax, it ends a little messy for our characters but there is a level of hope for them. It's a constant struggle for us as people. We are always writing our story.
8. Do you plan on making a second part of Harley Quinn: Black N' Blue? What are your comments as a director, should there be a Part 2 of this film?
Never say never. This was a passion project that we loved making. It would take tons of additional support to get Part 2 done though. At the time when we started production for this film we were gambling with our finances so it might need to be a crowdfunded endeavor. A follow up could happen, because there is plenty more that can be told, but only time will tell.
9. What are you working on next? Which is your best project you have worked on till date?
There is a slate of projects in the works. We are currently working on a follow up to a horror/comedy that was previously made back in 2021. There is a lot of promise for that one as well just like Black N' Blue because how it originally ended. As of right now, that [Black N' Blue] has to be the best project we have ever completed. We will take what we learned and apply it towards the next film and the next one after that. There are tons of ideas to keep us busy until the next opportunity presents itself.
10. Do you have any final comments that we didn't cover?
No. We are thankful to you for giving us the opportunity to discuss our film and for including us in your festival. It has been incredibly rewarding.
We are glad to have you to discuss your filming experiences of Harley Quinn: Black N' Blue. We believe this interview will definitely prosper other filmmakers in their journey.
On a personal note, we really enjoyed interviewing you, we hope you enjoyed it too. Thanks again. Stay connected with the MDIFF Community, because we value your work!