Insomnia – 4:00 AM, is an informative film about the medical condition insomnia, directed and produced by Kary H. Sarrey, written by Kary Hyunjeong Sarrey and composed by Tree (Namu) Kim.
About 10% of the world's population experience insomnia that qualifies as a medical condition. A common sleep disorder that can make it hard to fall asleep, hard to stay asleep, or cause you to wake up too early and not be able to get back to sleep. You may still feel tired when you wake up.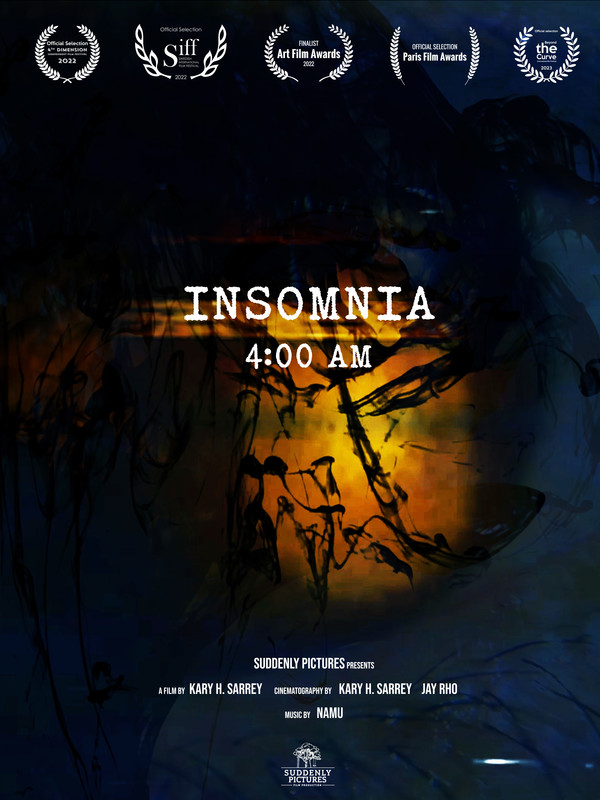 Kary H. Sarrey made this film as an experimental film, she tried to study the mind of people suffering from insomnia. What they think while going through insomnia, is what is portrayed in her film. Everyone suffers from their own depression, and in this film, she tries to understand one's liminal mind space. The film starts with an idiosyncratic representation of the mind. It is excellently shown what the mind sees/thinks during insomnia and during those sleepless times. It's the creative representation of one's mind. Kary, this is commendable! What an exceptional thought and what a wonderful depiction.
This film is a must watch for everyone!!
We are indebted to have the chance to interview you Kary. We wholeheartedly acknowledge the time you have taken to address the questions, and all that it would entail.
Director Biography – Kary H. Sarrey
As an award winning director and editor, Kary has been working in the film industry for more than 20 years. Originally from South Korea, graduated from Academy of Art University in San Francisco, she has been working in feature films, shorts, music videos and video arts, etc.
Director Statement
I remember the nightmare that I always had. There were many traumas that I had to hide deep inside my heart comes out at night as a vivid images and sounds. As a filmmaker, my remedy to escape from those nightmare was actually recreating those images that I dreamed of and figure out why and how it started. And it did help. I just had to say it, instead of hiding it. For me, this film is my way of self-healing, that it's okay to be scared, feel sorry and sad. Sometimes you have to embrace those difficult moments and find a peace from it. Hold on to the good memories and keep on dreaming.
It was wonderful to see how so many people can relate to the subject insomnia and also have different interpretation. Thank you for watching!
About Film
4 A.M. It begins with a familiar scene, and something we've probably all endured at some point. Insomnia. Somewhat nostalgic memories in my head slips through my dreams.
It's an experimental film about insomnia, nostalgic memories, dreams, reality becomes one. Everyone suffers from their own depression, and in this film, trying to understand one's liminal mind space.
The
Interview
Let's get started with the questions.
1. Kary, you have been in the film industry for 20 years now. A long time! Tell us about your most precious experiences during these years.
One of the most memorable films I worked on was "Song of the Same Night" in 2021. When the whole world shut down, there was nothing we could do but stay home in a global lockdown. But we had to do something. We found each other on Clubhouse, a voice app, and decided to make a movie together. We collaborated with five different directors from five different countries during the pandemic. We were from New York, Japan, Korea, France, and Hong Kong. Everything was mostly done through Clubhouse meetings, voice app, and Zoom due to the pandemic, but we put in 100% effort even though we never met in person. We trusted each other and believed that our collective voice could deliver a meaningful message to the world. It was such a wonderful experience to know that even when it seems like there is no hope, there is always a light, and someone who can listen to you – you're not alone.
2. This film is about trying to understand one's liminal mind space and about depression and insomnia. It seems like you must have gone through a good amount of research before making this film. What are your final conclusions after the research?
3. There are different medical issues around, we are eager to know why you choose Insomnia to make a film on? What pushed you to make a film on Insomnia?
4. This may be a bit of a personal question, have you personally ever dealt with Insomnia? Would you like to share anything about it?
(Answers to 2,3,4 together)
A: During the pandemic, I experienced severe insomnia, as did many of my friends. Insomnia is a sleep disorder that is characterized by difficulty falling asleep, staying asleep, or waking up too early and not being able to fall back asleep. The term "liminal space" refers to a psychological state of being in-between, where an individual is neither here nor there. It is a state of ambiguity and disorientation, often associated with feelings of uncertainty and anxiety.
When I was suffering from insomnia, it felt like my mind was in a completely different place. To try and understand my insomnia, I tried to recreate all the images that came into my head with my memories from throughout the years. Many of these memories were traumatic, and things that I had mostly feared. However, interestingly, when I recreated them, they became a part of me instead of something I wanted to erase. I began to accept them as they are, as a part of me. This process helped me to slowly understand my insomnia. Do I have final conclusions? No, I am still figuring things out. But I can say that making this film was such a wonderful healing experience, and I am grateful to our music composer, Namu, for creating such beautiful music for the film. It surely brought it to life.
5. Do you have any piece of advice for people going through insomnia?
I also suffer from insomnia and sometimes wake up from nightmares, which I think happens when I am stressed or feeling lonely. When this happens, I try to listen to my favorite lullabies and meditate. Remember that you are loved and important, so take care of yourself.
6. The characterization of the entire film is outstanding and incomparable, who came up with the idea of such a beautiful evocation?
Well, the interesting thing is that a lot of black and white footage is what I filmed over the years, and the dreams that I had were from my own experiences. So when I started thinking about my dreams, I collected images that reflected that time frame. We also shot ink in the water to reflect the feeling of heartache, which is like feeling the pain spread through your veins. Another interesting thing was the water scene. Despite my biggest fears being heights and water, in my dream, I felt warm and protected knowing that I was listening to that lullaby. I tried to recreate my personal feelings in the film. Isn't it ironic? This was my own way of the healing process, I guess. I am still trying to understand my fear and overcome it.
7. In this film, you were trying to understand one's liminal mind space. Were you successful in doing so? What are your thoughts on this?
Liminal spaces are transitional areas that can evoke a sense of ambiguity, disorientation, and even fear in some people. While some individuals may find liminal spaces fascinating, others may avoid them. When I showed this project to others, I saw people with different reactions. Some felt a deep connection, while others asked me, "Are you okay?" I find it fascinating to see everyone's different reactions.
8. The background music played a requisite role in the film, who designed the music? Share a few things about the music.
Namu is a famous Korean rock band singer for "ByeByeSea" who writes all of his own music. I discovered his music during the pandemic and found myself crying the first time I heard it, which caught me off guard. His songs are sincere, and I love that music can heal and touch others' hearts. We felt a deep connection, and I respected his music, just as he respected my films. We had always wanted to collaborate, so I showed him my film "Insomnia," and he agreed to collaborate without hesitation. Later, he told me that he intentionally stayed up for several nights and days to create the soundtrack and truly feel the experience of insomnia. When I heard it for the first time, it felt like a dream come true.
9. The editing and all the aspects of the film is marvelous. It truly takes us to that dreamy world. Who did the editing?
Thank you very much. For the last 20 years, I have mainly worked as an editor. With all my experience in this role, I feel fortunate that I am able to bring to life the things that I imagine without having to ask someone else. These imaginations are all in my head and sometimes, it's hard to explain them to others. However, when I see the final product, I still notice many mistakes that I would like to fix.
10. Would you like to add anything more about the film or about yourself?
Thank you for taking the time to interview me. Making this film about my own traumas and imperfections was a big decision for me because sometimes I just want to hide them. However, being able to share and connect with others through this process, understanding each other's fears and uncertainties, gave me the opportunity to heal and comfort each other. It makes me happy to appreciate how important it is to open up and share your thoughts. If you can find just one person who can listen to your voice and feel the same way, it can make a huge difference in your life. I want to be that person for whoever needs to talk and needs someone.
Share your experience/review about the interview.
I feel grateful to have had the opportunity to participate in the MDIFF film festival for two years, which is open to many talented independent filmmakers worldwide. Thank you for your kind words and support. I hope to talk with you again soon!
We are excited to have you to discuss the wonderful film and about the important concept. We believe your film will definitely help others flourish in their journey.
On a personal note, we really enjoyed interviewing you and watching your film and knowing more about you, we hope you enjoyed it too. Thank you again. Stay connected with the MDIFF Community, because we value your work!