The Party, a film directed by Kevin Stevenson and written by Ryan Mccoy, is a film worth watching with entertainment and sudden twists! All the actors in the film are equally good, it's complete team work and the effort of each one made the film successful. The story is set beautifully, one will get involuntarily indulged in the film and wait to watch till the end! The dialogues in the film are appropriately placed. We truly appreciate the director, for putting together all the scenes so well. The characters of the film made it enliven. Overall, The Party is an outstanding and insightful film.
We are thrilled to have the chance to interview Kevin. We wholeheartedly acknowledge the time he took to address the questions, and all that it would entail.
Director Biography
Kevin Stevenson is a Los Angeles native and an award winning filmmaker. He loves the great outdoors and has a passion for storytelling through the lens of moving pictures. More than anything, he loves attending small indie cinemas all over the world. With 10 years behind the camera as a Cinematographer & Camera Operator, Kevin is directing his fourth feature film, with plans to direct his fifth indie film in the fall of 2023. Earning his degree in Film and Electronic Arts, he has worked for various media companies creating original content for TV and film. Owner of On The Brain LLC and Goreella Media, he has made a nice home in Glendale, CA, USA where he lives with his wife, 2-year old daughter, and a dog named The Great Bambino.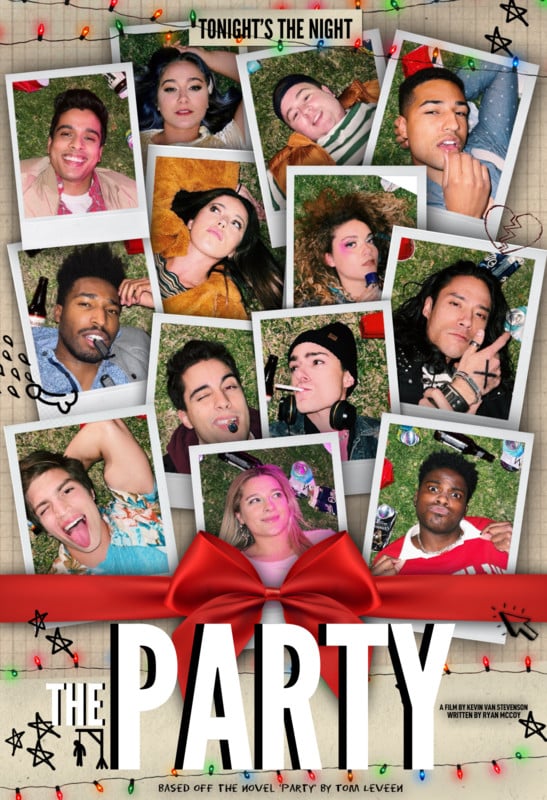 About Film
On the Friday night before Christmas, a sleepy beach town is shaken by a series of events that will lead a group of friends to a party to remember.
An ensemble cast, involving a group of high schoolers, who are forced to come to terms with each other's baggage. On a long-cold Friday winter night, their paths cross at a party. Starting with Beckett, a loner wandering the streets avoiding her best friend, Ashley, who resents her for distancing herself. Morrigan, jealous of their friendship, becomes possessive over Ashley, and confronts Beckett with disastrous results. Unable to deal with her insecurities, Beckett attempts to commit suicide by jumping off a pier and drown in the ocean.
Morrigan's ex-boyfriend, Josh, arrives at the party with his friends who have a hidden agenda to poison her. In doing so, they also poison her friend Anthony which leads to a nightmarish scenario which will change them all forever.
This title "The Party" is also known as "Butterflies…"
Kevin, let's start with some questions.
1. Please tell us what encouraged you to set foot into the world of films? And as you have worked in both Film and TV which one do you prefer?
I made a few short films with a digital video camera, which was fun. But, it wasn't until I shot my first film with a super 8mm camera that I realized how exhilarating it can be. I discovered film as an art form at that moment when I got my first look at the footage after developing the footage. Shooting with film was a real breakthrough for me, because at this moment, I could confidently call myself a filmmaker.
If I had to choose between working on a film set or a TV set, I'd choose a film set. Both are fun because I can perform my craft as a DP and/or Camera Operator. But there is a different level of creativity with film projects. More ideas are shared in film. In TV, is feels that the creative decisions have been made in pre-production and our job is to execute. Contrasted with film, where each day and each setup lends itself to spontaneous input from everyone on set. So overall, film feels more like a collaborative medium, which is more rewarding.
2. When did you start filmmaking and what was your most noteworthy experience when you made your first film?
I got a late start in filmmaking. It was never accessible to me as a teenager. I dabbled in theatre, but mostly focused my efforts as a student athlete. It wasn't until my first year in collage did I get my hands on a camera and editing software. And with the encouragement of the film instructors, I was able to complete several short films. Most notably, two films were shot on super 8mm film. One was a horror film about a sledgehammer wielding maniac who murdered married woman. The 2nd was about two ghosts playing for their lives in a basketball game of life and death. This was 8 years before I made my first feature film On The Brain.
3. With 10 years behind the camera, is there any of your work, which you think you could have done better?
My work can always improve as I develop new skill sets using new technology in terms of cameras, lenses, camera support, and lighting. It can always look more polished and more dynamic. But, more importantly, I think I have learned to improve my efficiency by having conversations with the heads of each department. Discussing the daily schedules is a great use of time because it allows me to address the time needed to setup each shot. In the past, I've always been rushed on my setups. Now, I make it a priority to give myself enough time to setup the lighting, rehearse camera moves, and execute the shot in a comfortable amount of time.
4. The film has some fantastic shots with some intriguing narratives. How did you decide on photography and do you think photography in a film focuses on achieving the best composition? Why?
We were able to pull off some improbable shots in the film The Party, largely due to the camera setup we chose for the short 10-day shooting schedule. Using the DJI's Ronin 2 gimbal with Master Wheels, we were able to pull off virtually any shot in heartbeat. Tracking, dolly, overhead, closeup, wides, orbiting, low angle, high angle, and dutch angle came with ease. The gimbal was a game changer, allowing us to mount it to a moving truck for our epic opening long shot. And this was a spontaneuous shot we though of minutes beforehand. While we were waiting for a location to open up, we deciding to shoot a scene walking through the streets, which couldn't have been done without the gimbal and the ability to mount it to a moving vehicle.
In pre-production, we knew we had to be prepared to move quickly with our equipment. We had an amazing opportunity given to us by the city of Port of Hueneme in California. They allowed us to film all over the town after sunset, so we didn't want to be restricted by long setup times. Once we built the gimbal, we were able to think on the fly and film anywhere at a given notice. And you can tell by the look of the film, we pulled off some amazing shots that just wouldn't be possible without the Ronin 2 gimbal setup.
5. Ryan Mccoy, the writer of the film, has more scripts like Black, Evidence, and more. Why did you decide to proceed with The Party for filmmaking? And how did you both come up with the film?
Ryan Mccoy is a great producer and even better writer. When he approached me about the concept of The Party, I knew it would be a challenge to tell a story with 8 central characters. With that being said, given that these characters were in high school, I knew it would be a wild ride following each character as they make their way towards the biggest party of the year. And when I read Ryan's screenplay, it really delivered.
6. This is kind of a more general question. Which genre of stories do you mostly prefer for filmmaking and why?
I find myself gravitating towards the thriller and suspenseful genres. It doesn't really matter how the script is written, I always manage to put a suspenseful touch on the final product.
7. Why is the title The Party also called Butterflies? Is it just because of the unanticipated incidents happening in the film or is it something more?
The title was originally "Butterflies…" because it was the one common theme that tied each character together. The butterflies each character felt in their stomach as they navigate through the tough times of high school.
8. It's a long film, almost about 1.30 hours. How much time did it take you to complete and how did you find the pertinent actors? How would you describe your cast?
We filmed the 90 page script over the course of 10 days in a cold winter week before Christmas. And the first draft took roughly 6 months to edit. Then we took a break from post-production to film another feature film. After production, we went back into the lab to tighten up The Party. Revamping the score, improving the sound design, cleaning up the audio, and color correcting really elevated this picture. So, much so, we then took a month to organize a crowd funder to raise a film festival fund because we Ryan and I knew we had something special. So in total, it was a year and half of post-production.
Casting is a really fun part of the process. Jennifer Layton with Hip Key Casting helped curate almost a 1000 actors to choose from. After narrowing it down to about 10 actors per role, we set up an online casting session on Breakdown Services. We weren't able to host a live in-person audition because we were hit in the winter of 2020 with the pandemic lockdown.
9. Tell us more about your upcoming project(s) and do you plan to work with Ryan Mccoy and the other actors again in 2023?
I have another feature, set to hit the festival in 2023, called A Girl Upstairs starring Holly Blair. It already has an international distribution deal and we're aiming at a fall of 2023 release date.
Ryan and I are planning on filming a vampire flick called Sunrise. It's a cross between the movie about a rabid dog, Cujo, and the down tempo vampire film Only Lovers Left Alive. And yes, we plan on using a couple actors who starred in The Party.
10. What fails to challenge you as a filmmaker?
Hmm, interesting question. Not sure if I have an answer to that. If I find myself in a position that isn't challenging or doesn't push me as a filmmaker, I make an excuse to push myself beyond my experiences. Whether it be technically or creativity, I will always find a way to go beyond our comfort zone so the crew, cast, or myself can learn something and grow from the experience. I'm quite good at elevating the difficulty level for the cast and crew haha.
It was a pleasure interviewing you and thank you for your time. We look forward to hearing feedback and please feel free to contact us if you have any follow up questions.
On a personal note, we really enjoyed your film. Thanks again. Stay connected with the MDIFF Community, because we value your work!