Honeymoon USA
Honeymoon USA, a film directed by Tania Schipper and produced by Bela Wolf. It's a beautiful film about Jonathan and Tania, exploring the West Coast on their Honeymoon in 2022 at the end of the Covid pandemic. This film has many pleasing shots from the West Coast of the USA. The viewers of this film will definitely enjoy it, as this film has a vacation vibe all through. You will be able to explore the West Coast, experience the beautiful rides, the sea beach, you will even feel the sand on your feet, the food, the boat rides, the games and fun, the beautiful spots, and much more through Tania's amazing filmmaking. One will be able to feel the merriment of a vacation through this film. The entire film is a beautiful tour of California and Las Vegas. If you're looking for a relaxing and amusing film to uplift your mood, then this is your film to watch now!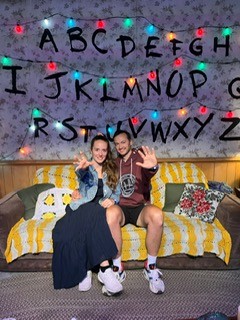 Though Tania has just started filmmaking, in this film her passion for filmmaking is clearly visible. She will definitely achieve a lot more with this. Lots of blessings from the entire team of MDIFF.
We are absolutely thrilled to have the chance to interview Tania and know her experience of filmmaking. We wholeheartedly acknowledge the time she took to address the questions, and all that it would entail.
Director Biography – Tania Schipper
Tania grew up in Auvergne, France and studied teaching and filmmaking while at Lycee Madame De Stael before transferring to Universite Blaise Pascal Clermont Auvergne. She met her husband Jonathan, a songwriter and musician in Santeny and pooling her filmmaking talents with her husband's musical abilities has seemed to produce a feel-good, beautiful honeymoon tour of California and Las Vegas. We all hope you enjoy it too!
Director Statement
This first short film is also my first time traveling the west coast of the USA. I enjoy filmmaking, my husband Jonathan is a well-known musician in Paris and we hope you enjoy watching our joint collaboration! Stay safe everyone!
About Film:
Jonathan and Tania explore the West Coast on their Honeymoon in 2022 at the end of the Covid pandemic. This is a "feel free and feel good" short and Tania's first attempt at serious filmmaking after completing her studies outside of Paris, France. Both Tania and Jonathan, a well-known musician and songwriter were born and raised in France.
Bela Wolf, Jonathan's aunt and much-awarded screenwriter, took notice of Tania's talent with filmmaking and submitted their short to Film Fests as part of her wedding present to them. We hope you enjoy their film, it lifts the heart during these challenging times…
The
Interview
Come on, let's start with the questions..
1. Please share some of your exceptional experiences of first time filmmaking.
I started taking pictures and videos when I was 7 years old. I experimented with different cameras my father owned, I was learning quickly. The entire experience and artistic freedom I enjoyed while filming became so interesting to me – and addicting!
I'd go out into our fields – we have many animals on our land in Auvergne – and I would make quirky, comical animal videos. When I met Jonathan, I loved his music so much I incorporated his songs into everything I filmed…it was great fun!
2. As we know that you're a film student, how is it all different from theoretical study and the actual filmmaking?
Theoretical study is essential for core training, and once we choose our particular areas of interest and concepts, technical advances will only illuminate and highlight our work along with the message we wish to convey. Our greatest advantage in filmmaking is the continual evolution of technology.
3. In the film, we could see you enjoying it so much, we would like to know did you plan the filmmaking for the tour or was it just unplanned? And did the filmmaking anyway hinder the enjoyment of your tour?
I'm thrilled to hear that our enjoyment and happiness radiated throughout because we had a great time exploring everything everyday. I did plan to film as much as possible, what I did not plan was incorporating my husband's music right away, but when I started choosing his songs, it all came together. The filmmaking only added to the fun of our tour -really!
What I did not expect was for our aunt Bela in New York to love our musical videos so much that she decided to enter this one into Film Festivals and share it with the world! When we received our first award and laurel, it was an incredible experience. Each time we are thrilled and grateful, I may be more surprised than anyone!
4. What is the most challenging part and the unchallenging part of filmmaking?
At times having people in the background while I'm setting up a beautiful shot can be challenging as far as sunlight and my patience. Unchallenging would be getting up early, going to the Pacific Ocean and catching the sunrise through and over the waves. It's magnificent, breathtaking, and only a camera can hold that incredible moment for a lifetime.
5. Do you prefer any particular genre of filmmaking and why?
I love making funny, musical animal videos, we are both animal lovers. I also love skiing down the Alps with a GoPro Hero on my head – it's incredible! The results are always phenomenal with an amazing experience attached. Right now I enjoy making musical travel videos.
6. It's a short film of about 5 minutes, how would you describe the contribution of Jonathan in this film?
Jonathan's contributions make my films come alive. He's recorded with great musicians that we all know, so I trust his opinions on all things musical….my films were less fun and interesting before I met him. He has produced, written, performed all kinds of music and that's great for me – I can choose his songs depending on the mood of my scenes.
7. You've got such a valuable present from Jonathan's Aunt, Bela Wolf. As she is an awarded screenwriter, and you as a director, have you thought of working in collaboration with Bela Wolf?
Absolutely! She has given us so much exposure because of our successes – and it's only January LOL! Both Jonathan and I love having her as our Producer because she walks in the door already loving us – and she knows what she's doing obviously. We all have a great time together. Jonathan's mother June, a former documentarian, is Bela's sister – she was the first to recognize and admire our combined efforts. It's absolutely a family project.
8. Tania, you as a first time filmmaker, what would you like to suggest for the new budding filmmakers?
Go to school, learn the basics – and just have fun until everything comes together. Learn by doing. Then do more. I'm told I edit very well, Bela Wolf says I edit "tight". She's funny!
9. Are you thinking of making another film soon? When is your next project coming up?
We are planning a ski trip somewhere in the Alps soon and I plan on filming everything – with music of course.
I really do enjoy travel videos, Jonathan too. We are in our element when we get together and create something fun, beautiful and musical.
10. Is there anything we didn't cover? Do you have any final comments to add on?
I'd like to thank our aunt Bela Wolf for her work and efforts on our behalf. We also wish her well with her screenplay/book SHE WAS LEFT ALONE. It's a beautiful story, makes me cry – and it may be published soon! She has won many awards with the screenplay.
We are extremely glad to have you to discuss your first filming experience. We believe this interview will definitely benefit contemporary filmmakers in their journey.
On a personal note, we really enjoyed interviewing you and learning about your experiences and challenges, we hope you enjoyed it too. Thanks again. Stay connected with the MDIFF Community, because we value your work!