God's Love letter feature film script, is a short script, written by Almarin Fisher consisting of 90 pages.
The script revolves around a love letter. The story starts with a Christmas night at Church. The story is about the character, Karl, who receives a love letter (Word of God). But his family is unsure about being religious, Karl has to make decisions on his own or with help from a friend. The story starts in a symmetrical manner and ends wonderfully teaching countless things at the end. It's all about love in the story! The story ends beautifully and it says, "Love bears all things, believes things, endures all things."
Such an amazing script by Almarin Fisher!! We feel overjoyed to have the chance to read it. Beautiful thoughts Almarin, and yes we could feel your expression in your writing.
Do read this to understand how to make a few decisions in life! This is a superb script to be made into a feature film!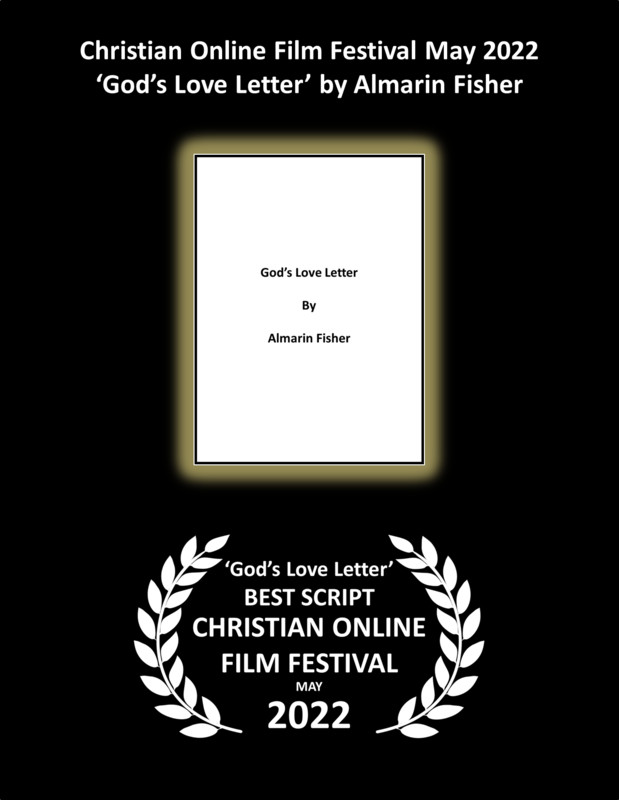 We are grateful to have the chance to interview you. We wholeheartedly acknowledge the time you have taken to address the questions, and all that it would entail.
About Script
Karl receives a love letter (Word of God). His family is unsure about being religious, Karl has to make decisions on his own or help from a friend.
Writer Biography – Almarin Fisher
As a writer I want to be open with my thoughts and mind to show expression to everyone so they can see what I do. Writing is amazing experience because you're open to so much to anything or any ideas.
The
Interview
Let's start with the questions.
1. Hi Almarin, we agree that writing is an amazing experience, do you prefer any particular genre in writing?
My favorite genre in writing is fictional. I have written fictional stories because it fun to explore that part genre. It introduces many characters, landscape, villain, and allows me to be more open. I write these stories in a way that I wouldn't go beyond budget or no budget. I think of more in a realistic way to shoot a small film. Sometimes small crew is the best because you're not dealing with so much drama that involves with big productions. Second favorite genre is faith based. It allows me to sent a powerful message about Christ and shows that I am a believer of Christ. I am here to share the good news. It's hard to come up with a story and try to put into a realistic point of view. I do add fictional names so that my character isn't pointing out the real person in life.
2. What made you write such a brilliant script, God's Love letter?
What makes a brilliant story, well its taking time to write down the characters, the involvements and time. the Bible helped me a lot to explore the meaning of this story. Love letter can be different meanings in life. God shows it His way and opens our heart to see. I chose that title for a reason. Titles have meanings in the story as well.
3. You say, as a writer you want to be open with your thoughts and mind to show expression to everyone so they can see what you do. Are you successful in doing it every time while writing?
Showing my thoughts and expression does allow me to see everyone. People ask me what's next or I put it on social media so that everyone can see the next project. I want them to be open with there mind or ask questions why I chose that title. Sometimes I do explain about the story because second options can help me write better as well.
4. Have you written more scripts before? Tell us about your writing career?
I have written small scripts before. Small scripts were two minutes long for a mirco contests. Sometimes I write small scripts for fun as well. As for writing career, I just publish online so that others can help me or ask my friends to read.
5. Are you writing anything currently? If yes, give us a glimpse of what you are working on?
Newest script will be focus with my friends. It's called Open Door. Its going to focus more about churches that need to allow people to come to church if they want too and stop ignoring different people in general. Jesus invites everyone to hear the word of God. If churches don't allow that, then it's not a safe church.
6. It seems you love thinking and writing about life more. Is that correct?
I love to write more about life and how it can help others in life. As a Christian I need to be a light for Christ. Sometimes doing that, is more exploring with different materials like writing or films. Social media is a huge open door for anyone who can see the work or read. I'm not going to see everything in the world with my own eyes, but what I can do is that I can write or film parts of my point of view so that others are willing to see it.
7. When did you start writing? What inspired you to become a writer? Describe a few things about a writer's life.
I started to write few years ago. Back then I didn't like books or writing. I was more of sport person or watch films and hangout with friends. Reading to me wasn't that importance. Until I took photography and learned from that genre. Then I learned more about films and details of it. Sometimes to make a great film is to start with a piece of paper and write down your own story and then make your story come to life. None likes when others copy they're stories.
8. Which is the most difficult part in writing a script? Which is difficult to curate, long scripts or the short scripts?
Hardest part of writing a story, is to come up with a story without copy someone else's story. Figuring out the story structures and how it works or figuring out the grammar as well. A. Long script is more difficult to curate because it has more words or grammars or sometimes fixing the problem in the story. A short film is more of less problem because you get to the point of the story and explains it more. Its a lot quicker to fix a small problem with a short film.
9. When do you plan to make the script into a feature film? Are you looking for producers? If yes, leave the comments you would like to brief a producer for the script to be made into a film.
Making the script into a feature film is when film producers are willing to buy it or allow to give me the right funds. It depends on the story as well. If the producers like it or not. I think best way is to put into film Festivals and see how many awards you win. More awards wins likely the film producers would buy it or make a deal with funding. I am looking for a film Producer who is willing to have a chat with me.
I would love to make the film because its my story.
2. If not, I would sell the story to focus on smaller stories to build more of my name as a filmmaker.
10. Would you like to add anything more about the script or about anything we did not address?
Its a faith based film. I want everyone to know that this script was written for believers and none believers to see God's gift or His love. Love is the one his greatest thing that God did for us. God sent His only Son to die on the cross so that our sin is paid and that we may have an eternal relationship by believing in Jesus. Jesus is the Son of God, died on the cross, and rose and defeated sin. Remember this is mentioned in the Bible a lot. Don't ignore God's greatest Love ever.
We are excited to have you to discuss such a fantastic short script. We believe your script will be soon made into a film and we look forward to it.
On a personal note, we really enjoyed interviewing you and talking to you, we hope you enjoyed it too. Thank you again. Stay connected with the MDIFF Community, because we value your work!