Meeting of the Big Four, a film directed, produced and written by Timothy Jerome Myrick. The film is based on the book, in the waters of my mind book, written by Timothy Jerome Myrick himself.
It is a memoir of Timothy J. Myrick's family life spanning 23 years, from the turbulent '60s in Detroit, starting in the year of 1967. That year, Joseph Henry Myrick (Tim's father) purchased a grocery store from his brother just before the huge riot that engulfed a portion of the city. The store survived and thrived during that time, as the family of five all worked and grew up around the store. As the family prospered and grew in business, the eldest son rebelled, wanting to strike out on his own, and not be tied down to the long hours at the store. In 1971 the eldest son (Henry), and two other friends robbed a bank in Detroit, one of the largest robberies of that time in the city. A few days after the robbery, he and his friend turned themselves in, separated from the money that was taken, and the event cast a long shadow of shame for the parents as well as the rest of the family.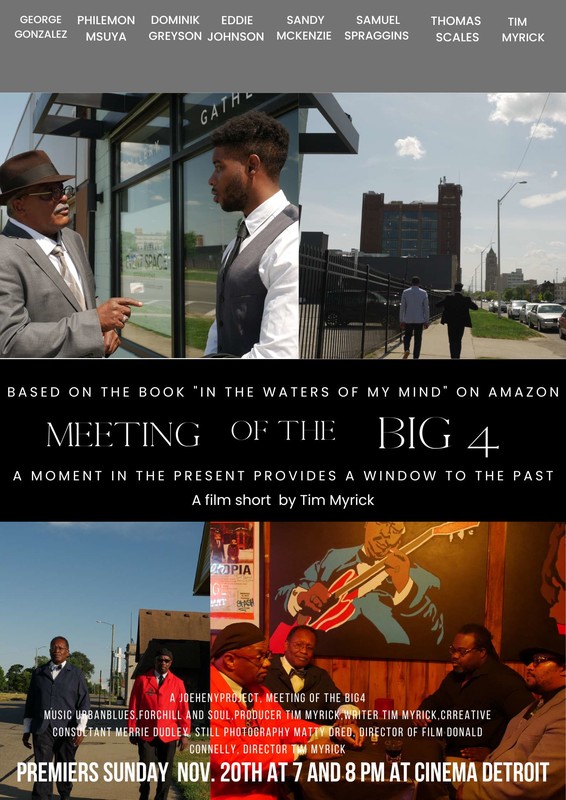 A trial and conviction followed, as well as numerous fights in school that Timothy had to deal with in order to defend his family name. Two years after the robbery, a devastating and almost unrecoverable event occurred; Joseph Myrick was shot and killed while tending his business. A new life began for the family which now had to integrate a wayward son back into it, deal with the second oldest away at school, and the youngest entering his teens. Timothy writes about his adjustments, from having to play sports as a replacement activity from being at the store, as well as the continued arguing between his mother and brother as to how to run the business. Finally, Henry falls into alcoholism, and the family makes one desperate attempt after another to save him.
The film revolves around the life of the director, his father and the business proposal. The film begins on a nostalgic note with the real images of the family of the director.
And then while giving a presentation about his computer company Tim Myrick meets a man who knew his father from the past. The man appreciates his father and says that his father was a great man!
"A moment in the present provides a window to the past." – Beautifully written!
The film has a great balance of life and a brilliant business story! It is definitely going to educate you about business and life at the same time.
We are obliged to have the chance to interview you Timothy. We wholeheartedly acknowledge the time you have taken to address the questions, and all that it would entail.
About Film
While giving a presentation about his computer company Tim Myrick meets a man who knew his father from the past.
The
Interview
Let's start with the questions.
1. What inspired you to make a film on this?
Originally, I wrote the full screenplay to my book, and sent it to a good friend who I had recently made contact with again, Keith Glover, who is a playwright in Hollywood. After reading it, he told me that it was pretty good for my first attempt at screenwriting, but as he put it, "No one was going to buy it". I wasn't disappointed but I was curious as to what was his reasoning behind it, and then he said, "You would have to be out here, trying to sell it, and getting used to being told, no". Then he said, "So what! The Hollywood game has changed completely, look what Spike Lee did with "She's gotta have it" He recommended making movie shorts to my book, and he said, "I'll guarantee you, by the third or fourth short, you're going to get someone's attention".
2. Your book, 'in the waters of my mind' is simply astonishing, the film is made based on the book. It includes a small part of the book in the film. What do you have to say about the film and the book in a few separate words?
"Meeting of the Big Four", is the fourth movie short I have made so far. It is bringing life to the words in my book, and allowing me to craft my story as to how I saw it.
3. The shots in the film are great and are aptly put together. Where was the film shot? Share your filming experiences.
Wow, I used almost the exact spot for the first half of the film, shot near the frontage of the George Washington Carver business association building which is now closed. It is across the street from where I attended grade school at St. Philips Lutheran, which is the first black Lutheran church in the state of Michigan. The second half of the film was shot at the famous Raven bar, on the eastside of Detroit on Chene avenue. That bar is awesome, Tommy, who is the owner, allowed me to shoot there, and the bar has also been used in shots of the series BMF, which is produced by 50 cent.
4. How long did it take you to make this film? Is there any Part 2 coming?
This took a couple of months because of the coordination of the actors, as well as availability of the bar. As I stated earlier, this is my fourth short, and I'm currently in pre-production of my fifth. I'm not telling the story in sequence of the book, it's all based upon how I feel, and availability of places to shoot, actors, etc…
5. Which part of the film was the most difficult to set and which one was the easiest?
The bar scene was the hardest because we didn't have an opportunity to go in and do some preliminary camera setup. I did storyboarding which helped tremendously but, there is nothing like doing some pre-shooting setup. I'll know to apply this rule on my next short.
6. Do you someday plan to implement the ideas of the film in real life and give your fathers dream a life?
That time has passed but that was just a small segment to the overall story, sort of the story within the story. I allows the moviegoer to get a connection to him, and will soon get a connection with others in my family.
7. You had a painful childhood. What do you have to say from your life experience till date?
Everyone has a story. Getting through those rough patches is unique to each individual. Some want to forget and move on, some dwell upon it and never achieve their fulfillment in life because of the trauma, grief and pain it causes, and then there is me, who remembers quite a bit and got tired of it replaying in my mind over and over. The book and now doing the movie part is a great release.
8. You're a remarkable writer, an exceptional filmmaker and it seems you're a great businessman too! What are your thoughts on this?
My nephew said something to me recently that I found quite funny. He said, "Who starts out doing something with no previous knowledge, educates himself in it, then goes out and does it as if this was what you've trained your whole life to do?".
I gained my writing skills by writing to a girlfriend who I met at a church convention. She lived in another state, and I would write to her every week, including poetry. Sometimes I would write to her twice a week. That went on for several years. I really enjoyed writing to her and I found it to be a great way to communicate my thoughts.
9. Tell us some of the challenges you faced while making the film? And your vision after this film?
The initial challenge was to educate myself in screenwriting, directing, and filmwork. I bought my own camera. I did a lot of research as to what to buy and lenses to get for it. I'm still learning. The biggest challenge? Sound. Sound makes you or breaks you. I'm still working on sound. Lighting is extremely important as well. Camera angles, acting, writing, I have to wear many hats but I'm having a lot of fun with it. My vision, to continue making short, and perhaps get some investment money to finish the job, I'm going to finish, whatever it takes!!
10. Would you like to add anything more about the film or about yourself?
I want to thank the multidimensional independent film festival for recognizing the work that the actors were able to put forth. I'm going to continue to tell my story, and be overjoyed if it's something you found entertaining, profound,and enlightening. If I don't tell it, it will be left to the anals of history, and forgotten. NOPE, not going to let that happen.
Share your experience/review about the interview.
We are exhilarated to have you to discuss the outstanding film and about your book that we love. We believe your experiences will definitely help others flourish in their journey.
On a personal note, we really enjoyed interviewing you and watching your film and knowing more about you, we hope you enjoyed it too. Thank you again. Stay connected with the MDIFF Community, because we value your work!
Previous movie shorts:
Follow the Facebook page for more details: https://www.facebook.com/inthewatersofmymind