"To make a great film you need three things – the script, the script and the script." – Alfred Hitchcock
And here is one of the finest scripts we have been reading for a few days!
Quiet Nights Are The Best, is a short script written by Clifford Parks. The script is exquisitely crafted into 11 pages with a fine brain. The story is short and crisp and has a sense of thriller and suspense which will hold you to the final pages. The story starts in a very casual way, where Howard comes home from a long day at work and wishes to spend some time peacefully. And then there was a relaxing date planned to end the day. And something scary happens when Howard goes to take a shower.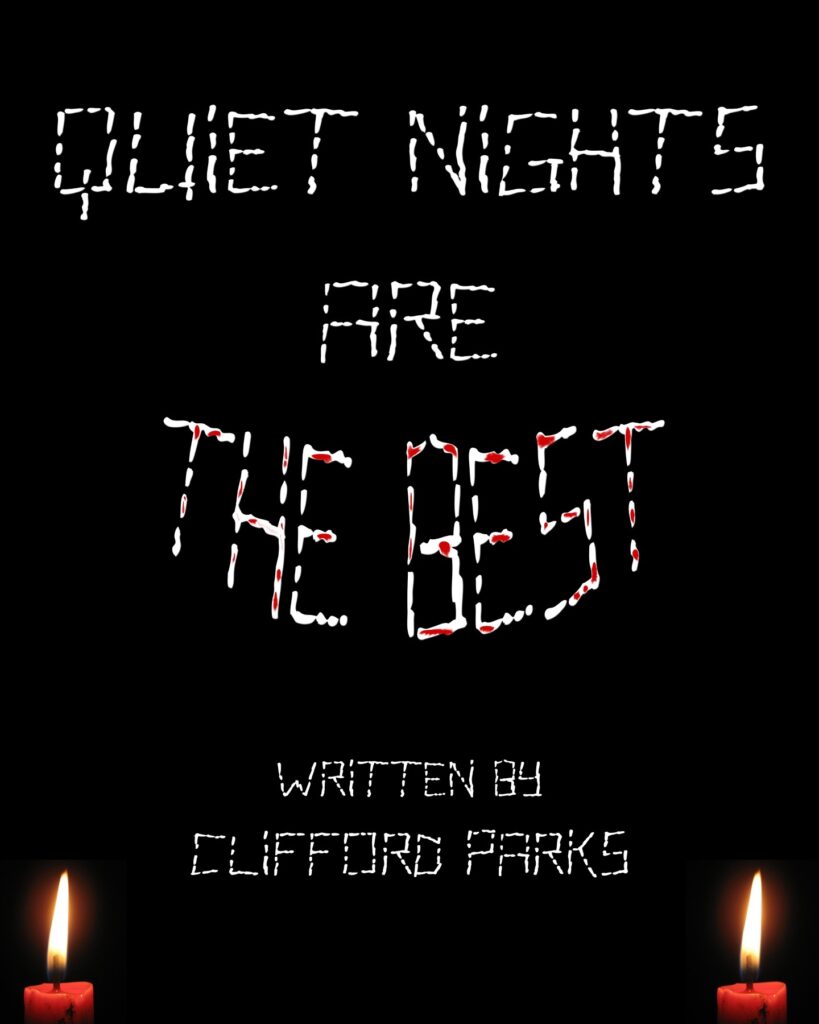 We suggest everyone, read the entire story and enjoy the well-articulated narrative! Your writing really inspires us.
The thematic tweaks of the script sharpens the overall concept. The plot totally makes sense within the genre.
If you're a lover of short scripts, then this story is definitely for you!
We are obliged to have the chance to interview Clifford. We wholeheartedly acknowledge the time taken to address the questions, and all that it would entail.
Writer Biography:
Clifford Parks (born Michael Clifford Parks) grew up an avid student of the "video store" generation. At the age of 5, inside his local video store in Bayonne, NJ, gazing up at shelves teeming with VHS box covers of monsters, haunted houses, and other nightmarish artwork… and lastly a giant cardboard cut-out of Chucky near the check-out counter… Clifford then became intrigued and fascinated (albeit still terrified) with the Horror genre.
Immediately taken in by films like Scream, Halloween, A Nightmare on Elm Street, Candyman, Child's Play, In The Mouth of Madness, and The People Under The Stairs (to name a few) and TV shows like Tales From The Crypt, The Twilight Zone, and TNT's MonsterVision with Joe Bob Briggs in elementary school, Clifford wanted to one day participate in the same magic of horror storytelling as his idols had.
After high school, Clifford moved to Los Angeles, where he continued training at both the USC School of Theatre and studied filmmaking at USC's School of Cinema-Television.
In between his studies at USC, Clifford was chosen amongst a select few across the nation to classically train at the British American Drama Academy (BADA) in London, where many stars have matriculated, such as Paul Giamatti, Paul Rudd, Chadwick Boseman, Ruth Negga, David Schwimmer, and Orlando Bloom.
After college, Clifford balanced his time performing while also reconnecting with his love for horror, interning for the Director of Development at Twisted Pictures, as well as making time to continue working on his own horror projects.
When not writing, Clifford enjoys his downtime collecting horror and other cult/unconventional genre Blu-ray titles, orchestrating Halloween events, keeping up with the latest at WWE & AEW wrestling, kicking back to rock and 80s-inspired synthwave music, and participating at LA's monthly horror trivia with his friends.
About Script:
Howard is looking forward to having the best, most relaxing date night of his life at his brand new apartment. The only downside to an evening like this — the deceased murderer, who used to live there, remains — and he prefers things even quieter than Howard could ever imagine.
The
Interview
Clifford, let's start with the interview questions.
1. We love the script utterly. So where did the idea come from? And who inspires you in your writing?
Thank you all so much! I truly appreciate it. It's been quite an honor for me to see Quiet Nights Are The Best be well-received too.
Quiet Nights Are The Best originally stemmed from a quick writing exercise I set for myself back in the summer of 2016. I just wanted to create a simple, yet macabre and moody, story that I had intended to shoot with one of my close friends who also went to USC. The goal was to build this little tale within the setting of my friend's apartment in Glendale, which is always a fun challenge, especially since I believe you can turn any location into a nightmarish backdrop under the right circumstances. Unfortunately, life got in the way, and we never got around to shooting the script. Nevertheless, being introduced to Film Freeway gave me a chance to revisit the story and punch up the script before submitting it to your festival.
As for QNATB's motifs, ever since I was a kid, I had always been a fan of television series like Tales From The Crypt and The Twilight Zone, in addition to other short-form horror literature, like Alvin Schwartz's horror anthology collection, Scary Stories To Tell In The Dark (and tremendous credit as well to the illustrator, Stephen Gammell, whose terrifying artwork in those books provided all the nightmare fuel a pre-adolescent could ever need). In fact, I would say that seeing Gammell's illustrations as a kid helped ultimately conjure up a bogeyman like Dr. Stitches for me in QNATB.
I loved seeing many of those twisted, ghoulish endings from Tales From The Crypt, usually involving disreputable characters who would meet their demise in a "pride comes before the fall" sort of way, so I wanted to craft my story around that similar framework, building a level of creepy tension and atmosphere before finally leaving the reader with a similar disturbing tableau to end the tale.
When it came to other visual or thematic inspirations for QNATB, I had also referenced certain horror films spanning over the past few decades, including William Malone's remake of House On Haunted Hill (1999), James Wan's Dead Silence and Insidious series, Scott Derrickson's Sinister, Christophe Gans' Silent Hill (along with the video games), Wes Craven's The People Under The Stairs (one of my absolute favorites, which also gets a quick nod in the script too), and David Sandberg's short and feature film version of Lights Out.
Similarly, in my writing, I pull inspiration from many esteemed directors and writers over the years (and centuries), whose visions, ideas, and styles have definitely impacted me. I know there are so many influences I could list, but I'll mention some that I've kept pretty close to my heart since I was really young:
Wes Craven, John Carpenter, Rod Serling, Stephen King, Clive Barker, Edgar Allan Poe, Sam Raimi, Kevin Williamson, Don Mancini, and – certainly not to forget – the young-adult horror authors who got me intrigued with horror as a kid, R.L. Stine and Alvin Schwartz.
2. What is your greatest professional achievement Clifford?
When it comes to my writing, I had been spending the last few years crafting out some of my own feature film scripts while balancing out all the other day-to-day aspects in my life. So, in all honesty, winning your award for Best Short Screenplay and seeing QNATB be considered a finalist in another film festival (Cult Movies International Film Festival), as of this writing, have collectively been my greatest professional writing achievement to date.
3. What style of scripts do you mostly prefer to write? Which was your first script written? Were you satisfied with your first script?
My favorite genre, no doubt, is horror. Or if it's not necessarily horror in tone, then I enjoy writing about surreal, unconventional, or outré situations, characters, or settings. Similarly, I also love comedy for its willingness to jump into the zany, the absurd, or the downright bonkers – whether it comes with a heartfelt core to the movie, or it simply doubles down on the outlandish.
My first feature-length script I had written when I was around 18 or 19, called Summer of Ecstasy. It was a high school coming-of-age dramedy, partially inspired by true events surrounding the final days of high school with my closest friends, prom night, and the crush that I started to develop for my prom date, while also partially adding some creative liberties to the story too.
When I was both in the process of writing that script (and finishing it), I will say it was quite a euphoric experience. I felt really proud of it. There's a particular joy you get when you capture certain feelings or moments on the page. And since this was slightly autobiographical, I can also look at Summer of Ecstasy with a definite level of fondness and nostalgia, especially when it came to typing out some of those special moments I shared with my friends or the gaffes we made back then. It's become a sentimental time capsule piece. Nevertheless, if I were to revisit the script today, now that I've had time to step away from it, I'm pretty sure there might be some areas where I could make some revisions or touch-ups.
4. The beginning of the script is set beautifully. We feel setting the mood of a script is all-important. What is your opinion about this?
Totally agree! I think setting the mood is essential, especially when in crafting horror stories.
When it came to creating QNATB, I wanted to find that unique balance at the beginning where you establish a state of normalcy (and even a good deal of fun), but at the same time you plant a tiny seed for the dread to inevitably blossom and dominate as time rolls on. Part of the fun was staging the initial excitement that the protagonist, Howard, has in preparation for his date night in – capturing him in different sections of his apartment, checking off all the food and entertainment he has ready to go for the date, before uttering that it's going to be the best date night ever. At the same time, when he first walked into his apartment that evening on the phone call with his girlfriend, Stefanie, it was important to establish his disregard for Stefanie's fearful hesitations over the rumors of his new apartment being possibly haunted. So you're initially left wondering … not just what will happen, but really how bad things might end up getting. And as you got the opportunity to see, this date night sure gets eerily derailed.
5. Which part of this script was the most difficult to build while writing? How much time did it take to complete the entire script?
For QNATB, it actually only took about two weekends to really get the full script finished in 2016, and then maybe another day or two recently to touch up some dialogue and other macabre additions before submitting it to your festival.
The hardest part, I'd say, was trying to find ways of establishing some quick exposition for Dr. Stitches into a short script without overplanting it (all while still giving an air of mystery about his character) and without shifting too much focus away from Howard. I felt it was extremely important for the readers to stay tied closely to Howard, to genuinely feel that tension and shudder-worthy creepiness at the same time he is experiencing it in the script.
6. What do you consider to be your greatest strength as a writer?
Not needing coffee to get through any of my sessions – Now where's that absinthe?! Kidding, I'm kidding, of course.
Truth be told – and I'm saying this humbly – this one's actually a bit of a tough one, only because it genuinely feels a bit nebulous for me to distinctly pin down. I wish I could just say I have a strong knack at structure, or I'm an absolute witty whiz at dialogue (although I will say I do love my alliterations), but I know that's not always the case.
Even as I've continued writing my own scripts, I respectfully still feel like a perpetual student to the craft – always learning and striving to get better at it. Maybe that's part of a writer's lament in some ways. We look to our predecessors, admiring all their great works that have imprinted on our minds as children or young adults, and we want our material to come out as swiftly or as wittily or as perfectly as possible. All the while we're overlooking the fact that we're comparing everything to our inspirers' final products…sometimes forgetting that even the most accomplished had to go through the same highs and lows of the writing process. I've always wondered what it'd be like to have seen Rod Serling initially formulate some of his most culturally impactful episodes of The Twilight Zone in the moment, or to witness someone like Kevin Williamson when he was beginning to punch in the snappy pop cultural witticisms and comebacks that we all came to love in Scream.
But if I were to pinpoint one of my stronger elements as a writer, I'd say it'd be my general openness to the macabre and the absurd (both dark and comical). I guess spending a few decades watching horror movies, oddball comedies, transgressive cinema, and professional wrestling can wonderfully do that to a person. Sometimes I'll be in my home or in my car listening to different playlists from Spotify and YouTube Music, and a song may pop up that strikes a "movie trailer" of images in my mind, and then I'm off to the races. I relish in coming up with eerie ideas, silly ideas, bizarre ideas, disturbing ideas, you name it. Whatever leaves a grand impression in my mind, heart, or gut, I let those thoughts blossom.
That curiosity to set up the imagery and spectacle for my stories becomes one of my favorite aspects to writing.
The other strength I'd say that comes along with the aforementioned one above would be my ardent determination. It doesn't matter how long a project takes, or how many life obstacles drop in my lap. When I set my vision on something I'm passionate about, I will go back to it and try to finish it. Now I totally have Stan Bush's song, Never Surrender, stuck in my head! So for all you lovers of Bloodsport or 80s uplifting pop rock anthems, I salute you.
7. Are you planning to make this script into a film? Would you agree to evolve the story if you make it into a film?
I would love to actualize QNATB into a short film and direct it, for sure! As for adapting it into a full-length feature film, that would also be a pretty fun exercise. I would definitely need to workshop and evolve the story – expounding upon the backstory of Dr. Stitches and his wife and daughter just a little bit more than in the short script, as well as introducing a whole new set of characters (perhaps a family) that would inadvertently (and unfortunately) incur the wrath of Dr. Stitches.
8. Would you like to drop any special advice for the aspiring script writers? Would you like to share any of your memorable experiences as a scriptwriter?
Absolutely, I'm happy to share any bits of advice I've gathered over the last few years now.
Granted, many of these will slant more to the horror lovers reading this, but in some cases, I think you can also apply some of the overarching themes and lessons here to pretty much any genre:
Always stay curious, and open yourself up to the macabre. Let your imagination run wild and free. Allow yourself the opportunity to play with ideas, characters, monsters, settings, anything that comes to mind. Sometimes all it takes is to develop one of the things above, and let everything else bloom from there.

In the case of QNATB, I had the setting plotted out, thanks to my friend's apartment. From there, I worked on creating a fun situation (a date night) and then imagining something terrifying – an imposingly tall phantom, triggered by sounds – that I could picture lurking through the dark corners of the apartment to get the nerves in my system firing on all cylinders.

As I alluded to previously, sometimes when I'm at home or driving around town, there'll be a song or instrumental score that stirs up pictures or ideas for other films in my head, and then I'll continue to replay that song to help build upon the idea or world I'm creating.

I'll also ask myself: What distinctly terrifies me? What do my friends find utterly terrifying? And I'll try to learn that, when we all watch horror movies or experience scary mazes or other events together. These are just some of my own personal processes, but whatever you find that can help ignite the flame of inspiration, then go for it.

Most importantly, make sure you start jotting down whatever comes to mind. Seriously, put it down on notepads, Word documents, Google Docs, notetaking apps, or wherever you like to save your ideas, so that you don't forget it, if you need to table the story for now. Nothing haunts me more than an idea that pops in my head for a bit but then floats back out to the ether unexamined.

Learn everything you can about your respective genre or genres. For me, when it came to horror, I wanted to learn everything and anything that the great predecessors had already created – both cinematically and literarily (obviously there will always be much to learn, so just do your best).

Explore every decade. Watch and read both the highly esteemed works and the bottom-of-the-barrel panned ones. You will still gain inspiration and knowledge from everything you see. Just to clear the air, that's also why I've never cared for that term 'elevated horror' that our media culture started flinging around since the 2010s. To me, I can find artistic appreciation in every aspect of horror, whether it's critically acclaimed works like Get Out and Hereditary or B-movie darlings like The Toxic Avenger and Street Trash. So, for anyone reading this, I encourage you to embrace it all and widen your palate.

Similarly, open yourself up to new material and experiences outside of your normal periphery. Branch out to different genres, different philosophies. Take a chance and say "yes" to a new learning experience. Be willing to open yourself up to films and books that are new to you, both past and current.

Even beyond cinema and literature, be open to meeting new people, picking up new things, and trying new experiences out there in the world. It's all going to be worthwhile in the end… not only for your writing, but for your life too.

Don't worry if you ever feel your story or project is somewhat derivative. Even the greatest writers, visionaries, and artists created works of art that stemmed from prior inspirational sources.

Sometimes there's this creeping fear I think artists get in the back of their mind, where they stop themselves and think: I don't want my work to feel derivative. We are always striving to create something completely original, and believe me I respect that wholeheartedly. So before you start to scrap the story you've been passionately writing because it now may feel unoriginal, I want to kindly assure you that it's okay if it does feel derivative of something that came before.

So much of art, literature, and cinema comes from previous works that influenced it. For example, Shakespeare was inspired by the Roman playwright Plautus' mistaken identity comedy, The Menaechmi, when he applied similar plot elements into his own comedy, The Comedy of Errors. George Lucas, when creating Star Wars, was deeply inspired by various works – epic samurai films (e.g., Akira Kurosawa's Seven Samurai), westerns (e.g., John Ford's The Searchers), sci-fi adventures (e.g., the Buck Rogers serials), and Eastern philosophies (e.g., Buddhism, Taoism). In his case, he created a whole mythos that stemmed from various sources, and that's truly incredible.

When you're working on your own story that may contain narratives, plots, themes, tropes, or other ideas that were in previous books and films, see if you can create your own unique touch on things, blend styles, do whatever helps make your vision distinctive in its own way. In the end, if there are past works that you've been deeply inspired by, and you'd love to integrate certain elements from them, you should feel free to pay homage to them in your own work.

Discover what you think effectively works and doesn't work when watching horror movies. In addition to watching these films on your own, have willing family members and friends watch, and then hear them out.

For several years prior to the pandemic, a few of my friends and I would go on Friday or Saturday nights to New Beverly Cinema or to The Egyptian Theater in Hollywood, the latter of which to see what insanity lay ahead for us with some double- or triple-features that would be presented by this cult-cinema programming team called Cinematic Void. Let me tell you, there is nothing like the sound of collective, uproarious enjoyment from an engaged movie crowd when they bear witness to a "that villain had it coming to them" death sequence, the tension from a well-executed frightening sequence, or an out-of-nowhere line delivery from a character in the film that makes you do a double-take and just say, "WHAT??"

Then, when the quarantine began in March 2020, every Friday night, I would get together with some of my other friends online, and we'd watch a fun double-feature of pretty much everything group-watchable – from usually obscure horror films (and anything from The Last Drive-In w/ Joe Bob Briggs on Shudder – quick shout-out to the Mutant Fam! #MutantFam) to wacky comedies to martial arts and action flicks.

You can get a pretty useful barometer of what works or doesn't for people when watching films – from the pacing of a film to the choices that characters make within that film. Any info you can glean from your family and friends is invaluable.

Now, flipping a complete 180 here, that brings me to the next piece of advice – Sometimes, if you are crafting a story that involves highly disturbing content or themes, respectfully keep in mind that it won't necessarily be everyone's cup of tea, but don't let it fully dissuade you from following the vision you personally intend on setting for the story.

Not every film or novel is going to be commercially and universally accepted – Sometimes it may not even be appreciated by your own peers and contemporaries. There are some filmmakers and writers whose name (let alone their work) tends to carry that aura of controversy – Lars Von Trier, Gaspar Noé, Takashi Miike, Ruggero Deodato, even Wes Craven (at the very start), just to name a few. They have created some of the most provocative and controversial films put on screen – films that have dared to examine some of the darkest aspects of human nature and society. While I fully understand how some of their films can be easily detested by the general public, I can still admire them for their bold choices and the risks they took to go to those taboo and forbidden terrains.

Now don't get me wrong, I'm not saying that every story needs to go out of its way to hit the pinnacle of shock-value notoriety. Nevertheless, if you do, I say go for it. In the end, I find it commendable to be daring and take chances in storytelling than to just play it safe only. Horror will always be a polarizing genre. Certain subject matter will naturally be divisive among your audience; it's the nature of the beast (some pun intended there). So stay true to yourself, and be mindful of the goal you wish to set for your project. Tap into the things inside yourself that leave you with goosebumps and the hairs on the back of your neck rising up. As the late, great Wes Craven once said, "The first monster you have to scare the audience with is yourself."

As an adjunct (and potential counterpoint) to #6 above, depending on what path you decide to take your horror story in, keep this in mind as well when you're crafting your story – Tone and nuance can also play key roles in your storytelling. Similar to how colors in a painting can emotionally move its viewer, the way you tonally craft and present your story can make a major impact emotionally on your audience – good or bad. I encourage everybody to watch and study Wes Craven's The People Under The Stairs as a perfect example of this. The movie presents highly disturbing themes (child abuse, child imprisonment, cannibalism, incest, racism, etc.); however, Wes presents the film in such a uniquely odd and satirical way, that the film overall has become arguably one of his most highly praised films in his impressive oeuvre. So never underestimate the power of tone and the impact it can have on your audience.

Sometimes, as writers we're so used to the feeling of control over a story's full progress. We already tend to lay out the plot points, character motivations, dialogue, beats, all the pieces that make up the story. However, there are times when you may fall into a rut, questioning things along the way. Some of the questions I've recently dealt with at times on a Clive Barker-ish script I'm writing were: Is this how I want the character to behave here? Do I feel I really need to kill off this supporting character? Is this how I want to end the story after all? There are times where you may have this one steady vision in mind, but you start running into doubts. Sure, you can assess the current situation, sit back a bit, ruminate on how you can fit things together and mold it into the current vision; that's no problem. However, I would also encourage you to play around with those other flights of fancy and have fun in seeing how those new thoughts could progress the story in a way that you never originally expected.

This reminds me of a famous Taoist lesson that Chinese philosopher Lao Tzu once said, regarding not being rigid and learning to just going with the flow (i.e., being like water) in his famous text, the Tao Te Ching. He said: "Water is the softest and most yielding substance. Yet nothing is better than water, for overcoming the hard and rigid, because nothing can compete with it. Everyone knows that the soft and yielding overcomes the rigid and hard, but few can put this knowledge into practice." Rhetorically speaking, if the story we're writing is like a river, we can sometimes tend to exhaustively control the direction we wish for our story to go, even if there's a feeling something doesn't work (i.e., swimming upstream or sideways); we can sometimes get stuck, refusing to let go of certain elements that we desperately want to hold onto (i.e., hanging onto branches in a flowing current); or we can sometimes let go and embrace the flow of a story's progression – whichever way it strikes our mind at a given time (i.e., flowing along with the river's current). When it comes to writing, I understand no one way is solely right in every situation, but I wanted to use this river analogy as a way for you to practice being flexible and examine the different courses that you can take your story along. You may come to appreciate the journey.

Finally, I'll leave you all with this. We cherish our heroes. They have inspired us, directly or indirectly, to follow suit in creating our own stories in the first place. Sometimes, though, we can fall into the mental trap where we'd like to become the next iteration of our hero. For horror fans here, we may be used to saying things like, "I would love to become the next Wes Craven," "the next Jordan Peele," or something else along those lines. And this can start to affect our work, especially when we fall into our own trap of perfectionism. We can hold our work back sometimes too much, because we may want to embody that certain X-factor that made one of our heroes distinctly 'them', in the hopes of us finally being seen alongside fellow legends and esteemed colleagues as "worthy." Instead, always remember, you are special as you already are. There will only be one Stephen King, one Clive Barker, one Wes Craven, one John Carpenter. Embrace the talents you've received in this life. Channel into the eccentricities that make you remarkable. Continue to grow and improve upon your skills. While we can aspire to be like our predecessors, at the end of the day, you should make your story indistinguishably you. So bring your own unique spark into this world and into your storytelling, and be proud of that. As cheesy as it may sound, I'm just going to say it: Be the next you.
9. How would you describe yourself in five words?
Affable, Curious, Ambitious, Offbeat, Whimsical
10. Anything else you'd like to mention that we didn't ask?
Firstly, I want to thank you all again for warmly accepting my short screenplay, as well as for putting together this interview. This has been a lot of fun!
I also just want to say, when it comes to the state of horror today, I couldn't be any more excited. Perhaps this ties back to some of my own insecurities when I was younger, but I remember how stigmatized it slightly felt to be an avid horror fan decades ago, for fear that many would see me as some kind of unhinged outlier. Thankfully times have evolved, and now it feels like a rewarding rite of passage to see so many people (of all generations) passionately embrace horror – classic and modern – whether it's in the major theater chains, on streaming services, retro movie houses, and the list goes on and on. Plus, I have to take a moment to also praise all the boutique label home-video distribution companies – companies like Shout/Scream Factory, Vinegar Syndrome, Criterion Collection, Arrow Video, Severin Films, Kino Lorber, Blue Underground, AGFA, 88 Films, Grindhouse Releasing, Synapse, Unearthed Films, Code Red, Massacre Video, Scorpion Releasing, Visual Vengeance, MVD, and countless others. They've all been doing the lord's work in restoring – and even resurrecting – so many films (from cult classics to the rarely-seen or never-before-seen gems) for horror fans (and even general film lovers) like me out there.
Horror even remains one of the primary genres that still happily keeps the movie business operating. One minute, I can be watching the latest installment of a popular franchise like Halloween or Scream; the next, I can be seeing many people gather into movie theaters to watch and support some of the most original and experimental horror films out there, from Ti West's X and Pearl, to Zach Cregger's Barbarian, to Damian Leone's Terrifier 2, to even immersive audio/visual 'nightmare fuel' like Kyle Edward Ball's Skinamarink. Even in TV, I've been loving every bit of Chucky. I think it's one of the best and smartly crafted shows on TV today, and I'm certainly looking forward to what happens for Season 3. All around, it's an absolute renaissance in horror!
If there were any particular area of the industry where it'd be nicer to see horror get more consideration, I say it'd be the award shows, like The Academy Awards, Golden Globes, etc. I know they've given some accolades to horror films in the past (The Silence of The Lambs, The Exorcist, Get Out, Alien, Aliens, An American Werewolf in London, The Fly, and Misery, to name a few), but I think the stigma that comes with horror still lingers here the most, and I truly wish the nomination committees would be more open-minded to horror's artistic and cultural impact in future nominations. If I would have had any say for the current award season, I would've given consideration to Jordan Peele and Keke Palmer for Nope, and Ti West, Eliot Rockett, and Mia Goth for Pearl (and you might as well integrate X in there too for her overall portrayal of that titular character there). Mia's performance as Pearl altogether (especially that 8-minute monologue near the end of Pearl) I found to be a profoundly sympathetic, tragic, and harrowing tour-de-force all around.
Nevertheless, in the grand scope of it all, I'm excited to see that horror will always find a home with audiences. As a life-long fan myself, I know that the horror community is made up of some of the most thoughtful and fondly loyal people out there. So I'm eternally grateful to be a part of it all, and thank you all again for allowing Quiet Nights Are The Best to be a part of your festival. It's been an absolute honor.
On one final inspirational note, I'd like to leave you all with this other wonderful quote that Wes Craven had given regarding storytelling: "Stories and narratives are one of the most powerful things in humanity. They're devices for dealing with the chaotic danger of existence." Truer words were never spoken. So to all my fellow creatives out there – be brave, be adventurous, and, above all, have fun! Let the scares begin!
We are gratified to have you to discuss your writing experiences, Clifford. We believe your experience will definitely help growing writers flourish in their journey.
On a personal note, we really enjoyed interviewing you, we hope you enjoyed it too. Thanks again. Stay connected with the MDIFF Community, because we value your work!
Follow Clifford Parks through the social media links below.
Facebook: www.facebook.com/CliffordParksFilm
Twitter:  www.twitter.com/cliffordparks  (@CliffordParks)
Instagram:  www.instagram.com/officialcliffordparks  (@OfficialCliffordParks)